Stranger Things: A Psychological Exploration of Extraordinary Mysteries
Saturday, October 13, 2018 from 9:00 AM to 1:00 PM
Event Information
Public Programs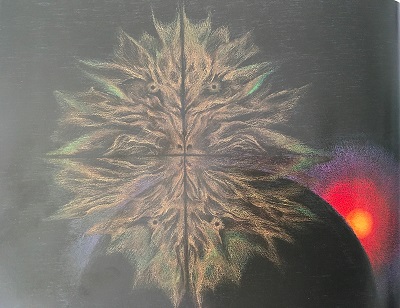 The Fourfold Face by Peter Birkhauser
* Limited Seating Available
Stranger Things: A Psychological Exploration of Extraordinary Mysteries
Presented by:
Janet Blaser, M.A., Jungian Analyst & Karmen Kamla, M.A., Jungian Analyst

The collective unconscious is a function that always operates,
and man has to keep in touch with it.
- C.G. Jung, CW 18, par.369.
In the episodic series, Stranger Things, the quiet town of Hawkins hosts a U.S. government laboratory whose experiment goes awry. The story unfolds as a young boy goes missing, and his friends and family attempt to rescue him. In their search for the missing boy, they are faced with what it is that has taken him. His mother's love, the imaginations of his friends, and a uniquely powerful girl offer resources in dealing with the animated subjects of darkness responsible for the boy's abduction.
Together we will view two episodes covering both seasons of this series and discuss the unfolding of the psychological drama. We will see how the psyche is working through the creators of Stranger Things to give us an image of what we are dealing with collectively and personally in our contemporary world, and how it may be offering help or resolution. Jung writes in his Memories, Dreams, Reflections that this was what he was attempting to do, that is to provide understanding and purpose as to how the unconscious presented itself to individuals and the collective. This may have a different teleology than what it seems.
Learning Objectives:
Analyze the archetype of the child in its masculine and feminine aspects.
Identify and describe the psychological meaning behind both the destructive and helpful aspects of the unconscious.
Compare and contrast the mythic cycle of abduction and rescue to a contemporary psychological situation.
Explain the concept of teleology in relation to the individuation process as described by Jung.
Janet Blaser, MFT, is a Jungian Analyst. She graduated from Pacifica Graduate Institute and was certified as a Jungian Analyst by the C. G. Jung Study Center. Janet has a private practice in San Pedro, CA. Janet has written and given presentations on animals in dreams and in sandplay.
Karmen Kamla, MFT is a Certified Jungian Analyst who earned her Certificate from the C.G. Jung Study Center of Southern California. She has a private practice in Santa Monica, CA. Karmen has written and presented internationally on the Encounter with the Self.

Policy Refund and Attendance Policy:
CANCELLATIONS are subject to a $50.00 processing fee and must be received 14 days prior to be eligible for a refund. Contact: www.jungstudycenter.com.
Special needs, accommodations or requests: Facilities and programs are accessible to persons with disabilities. If you have a special need, please contact Nancy Romig at 619-729-6089. Please allow as much advance notice as is possible to ensure we have ample opportunity to meet your needs.
Grievance: If a grievance regarding CE's is brought to the attention of the Program Administrator, he/she will review it and respond to the participant in a timely, reasonable and ethical manner. If the Program Administrator deems the grievance valid, full or partial refund may be given or other appropriate accommodations made.
Course Credit Policy: Those who attend this workshop in full and complete the appropriate evaluation form will receive four (4) CE's for attending (1 CE per 60 minutes course time, no CE will be given for the 1 hour lunch break). Please note that credit will only be granted to those who attend the entire workshop. Those arriving more than 15 minutes after the start time or leaving before the workshop is completed will not receive CE credit.
The C.G. Jung Study Center of Southern California is approved by the CPA OPD to sponsor continuing professional education for psychologists, Provider #CGJ003 and by the California Association of Marriage and Family Therapists to sponsor continuing education for LMFT, LCSW, LPCC and/or LEP, Provider #PCE3974.
The C. G. Jung Study Center of Southern California maintains responsibility for this program/course and its content.
Event Location
C. G. Jung Study Center of So. CA • 9696 Culver Blvd. - Suite 205 • Culver City, CA 90232 • US